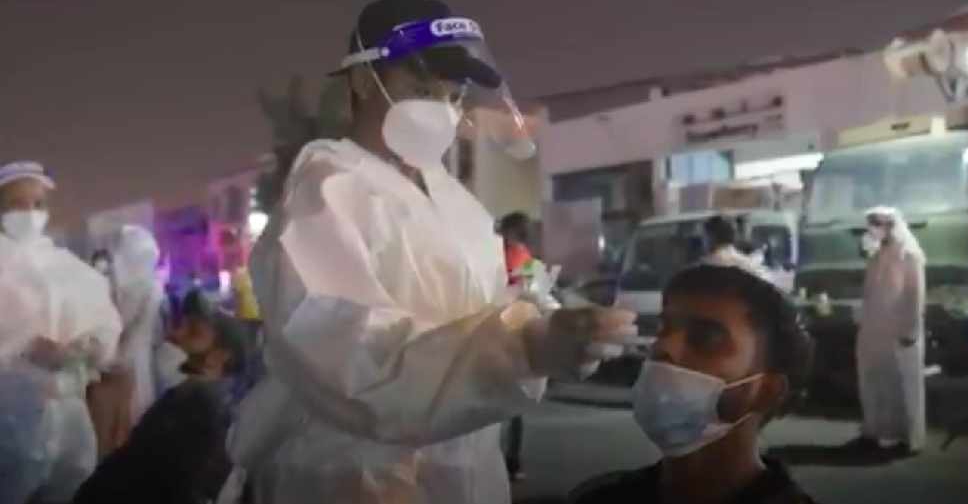 Screengrab/ADMediaOffice
Authorities in Abu Dhabi have been holding regular COVID-19 screenings for those living in Al Ain industrial area as part of efforts to protect the community from COVID-19.
A video posted on Abu Dhabi Media Office's official social channels shows members of the community, masked and maintaining social distance rules, waiting for their turn to get tested.
Proactive testing, held in collaboration with the Abu Dhabi Emergency, Crisis and Disasters Committee, Abu Dhabi Police and Tamouh Healthcare, enables authorities to take quick action and protect public health.
An official from Tamouh Healthcare highlighted how 6,000-7,500 tests are done every day.
Workers, on their part, expressed gratitude for being able to get COVID-19 tests done regularly for free. "It's reassuring and keeps our fears at bay," they added.
لجنة إدارة الطوارئ والأزمات #في_أبوظبي وبالتعاون مع شرطة أبوظبي وشركة طموح للرعاية الصحية تواصل الفحوصات الطبية في المنطقة الصناعية في مدينة العين حرصاً على الصحة العامة وحفاظاً على سلامة جميع أفراد المجتمع. pic.twitter.com/JoybygsW29

— مكتب أبوظبي الإعلامي (@admediaoffice) May 12, 2021