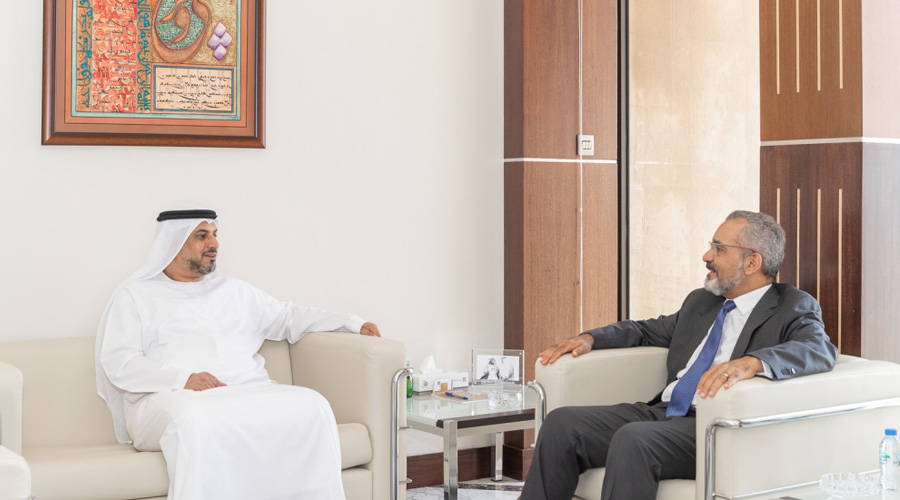 Abu Dhabi: "The Gulf"
Mohammed Hilal Al Muhairi, Director General of the Abu Dhabi Chamber of Commerce and Industry; Together with Fernando Luis, Ambassador of the Republic of Brazil to the United Arab Emirates, the prospects for bilateral cooperation in various economic and investment areas of common interest and the promotion of trade and economic expertise promote the aspirations of the two friendly countries. and peoples.
Al Muhairi welcomed the Brazilian ambassador during his visit to the Chamber, praising the strength of bilateral relations between the two friendly countries and peoples, and expressing his hope for a joint effort to shift bilateral economic relations towards optimal levels. of trade exchanges between the two sides, and to achieve mutual benefits and interests that benefit the peoples and economies of both countries.
Al Muhairi also extended his thanks and appreciation to the Brazilian Ambassador on the occasion of the end of his term as Ambassador to the United Arab Emirates and praised the efforts he made throughout his tenure and the consequent consolidation of economic relations. between the two countries in different fields and wishes the Ambassador good luck with his new tasks.
For his part, the Brazilian ambassador appreciated the warm welcome and expressed his country's desire to strengthen areas of economic cooperation with the UAE, explore opportunities for cooperation and maximize investment opportunities in many areas. Highlights the importance of the UAE as an important gateway to regional and global markets and its advanced infrastructure and dynamic business environment that facilitates the arrival of Brazilian products to the markets of other countries, particularly in Asia.
He also praised the Brazilian ambassador for the cooperation he received throughout his work in the UAE; In particular, the strong cooperation with the Abu Dhabi Chamber, which helped to strengthen the joint bilateral work between the two countries, wishing the UAE Government and the people further progress and prosperity.