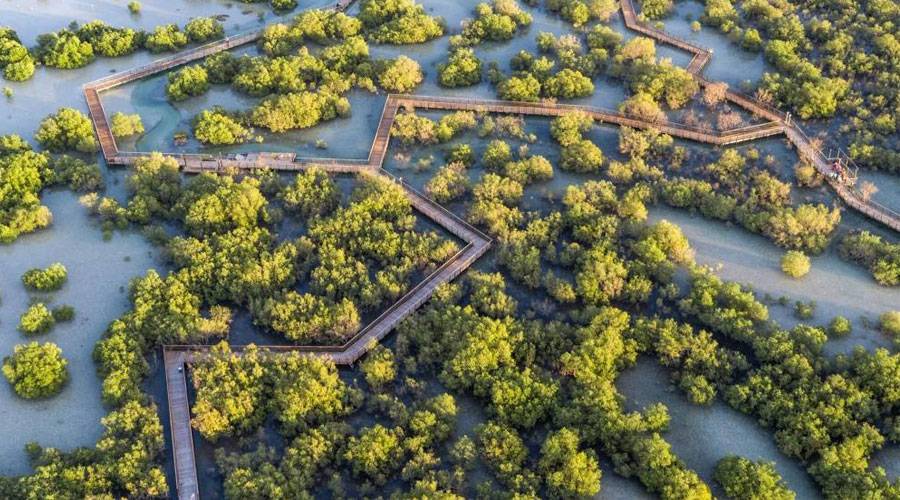 Abu Dhabi: "The Gulf"
With World Environment Day approaching, which falls on June 5, Jubail Island highlights five initiatives that seek to support the ecosystem as part of its commitment to protecting the island's biodiversity and wildlife so that it becomes an environmentally friendly destination. Since the opening of Jubail Mangrove Park in January 2020, Jubail Island has taken many important steps to preserve the island's nature and raise awareness of the importance of the environment through the launch of strategic partnerships and collaborative initiatives.
Focusing on Abu Dhabi's position as a global environmental center, Jubail Island continues to work to implement the vision of the founder of the United Arab Emirates, the late Sheikh Zayed bin Sultan Al Nahyan, may God rest his soul, to protect mangrove trees, preserve their numbers in the capital and strengthen the system environment in the United Arab Emirates.
In his comment, Eng said. Abdullah Saeed Al Shamsi, Operations Manager for Jubail Island Investment Company: "For Jubail Island, every day is World Environment Day; while we continue to strengthen the island's position as a leading environmental destination in the Emirate of Abu Dhabi."
Below, we review five environmental initiatives launched by Jubail Island to establish its position as a sustainable destination:
Jubail Qurm Park
Jubail Mangrove Park is one of the most famous environmental attractions in the UAE's capital and is distinguished by being the first educational, nature and entertainment destination in Abu Dhabi. Since opening in January 2020, the park has attracted a large number of visitors, including dignitaries such as Prince William, Duke of Cambridge; The park offers the opportunity to enjoy the enchanting beauty of nature, as well as introduce the importance of the ecosystem and the rich biodiversity. The most characteristic feature of the park is the mangrove forests, in addition to showing cultural and environmental information to visitors throughout the place, making the visit to the park an enjoyable and unforgettable experience.
Badir app
Discounts and opportunities to participate in specific activities for users that contribute to the preservation of the environment
Jubail Mangroves Park is a contributor to the "Badir" application launched by the Abu Dhabi Environment Agency to reward members of the community as they carry out many environmental practices that help protect the environment throughout Abu Dhabi. The application allows users to gain points by implementing various tasks based on seven environmental themes: recycling, transformation, agriculture, initiative, energy saving, active participation and mobility. Common tasks ensure less water or energy consumption, lower CO2 emissions and reuse and recycle things.
Plant one million mangrove trees
As part of the UAE's goal of planting 100 million mangrove trees by 2030, the Jubail Island Investment Company has promised to plant another one million trees on the island. So far, more than 350,000 seedlings have been planted on Jubail Island, and mangroves are a very important part of the UAE's natural assets.
Partnership with Etihad Airways
Jubail Island Investment Company and Etihad Airways signed a strategic agreement earlier this year, under which 182,000 mangrove trees will be planted over the next five years on Jubail Island. This new initiative makes it possible to introduce new water channels to increase the natural tidal current to the waters around Jubail Island. This strategic partnership with Etihad Airways also helps promote Jubail Island as a prominent ecotourism destination in Abu Dhabi, attracting many visitors from all over the world to the island.
Emirates NBD promise
Emirates NBD Bank is one of the institutions that also joins forces with Jubail Island Investment Company to support sustainability in the United Arab Emirates; A distinguished initiative was announced, through which the bank welcomes all its new customers by giving them trees on Jubail Island, in a move that will support and enable sustainable development. The initiative includes planting more than 3,000 trees on the island.