A 12-year-old Kenyan boy wowed a young audience in Dubai, United Arab Emirates after his presentation on technology.
Patrick Njoroge Wachira has been hailed as a child prodigy in science at the 13th Sharjah Children's Reading Festival (SCRF) in Dubai, United Arab Emirates.
He was among the speakers at the Children's Festival on Saturday May 21, who shared stories of their accomplishments in a bid to challenge their peers to pursue their dreams and reach their full potential.
Patrick Njoroge Wachira, CEO of PNW's Innovation Program.
The exchange.africa
Patrick left the young audience stunned with a presentation of his initiative, the PNW Innovations Program, which provides free STEM education to disadvantaged Kenyan children.
"I want to empower every African child to be an innovator," he said.
The 12-year-old is working on a mobile STEM lab and Makerspace built on a bus equipped with robots and drones, learning kits and electronic and mechanical workstations, which will travel through rural Kenya.
He is a robotics enthusiast and he told conference attendees that his favorite interest at SCRF was the Robot Zoo.
Patrick said he was inspired by the leaders of the United Arab Emirates because of their efforts to develop the country and the technological advancements the nation has made so far.
The 13th edition of the SCRF, which takes place at the Expo Center Sharjah until May 22, under the theme "Creating Creativity".
Parents and young visitors to the 13th Sharjah Children's Reading Festival (SCRF) have paid rich tributes to the region's largest such event for continuing its legacy of being "more than a literary festival".
Patrick is also a tutor for children and university students in Kenya, as part of his PNW innovation program, where he offers free lessons. He also prides himself on being an innovator who has built a revolutionary tool that can be used to detect sewer blockages.
His project connects to the smartphone which allows users to detect sewer blockages and sludge for timely repairs. So far, he has attracted industry bigwigs and he was invited to present at Expo 2020 in Dubai.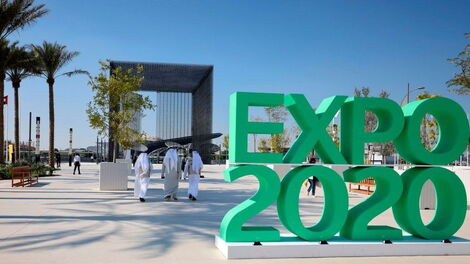 Signage showing Expo Dubai 2020.
Case
"I created a prototype, which could be refined over the years. It also detects sludge and toxic chemicals and sends an alarm to the control room. It helps authorities detect sludge and blockages early enough and take preventive measures with less human effort.
"If I have the chance to implement it in the UAE, I will be happy to collaborate with any of the civic bodies in the Emirates, be it Dubai Municipality to implement this robotic solution," he said. -he was quoted by a Dubai publication.