10,000 SMILES: The capital city's First Solar Powered Estate is the brainchild of TAYAN group a growing and innovative real estate development company with her tentacles in property acquisitions and construction. In recent times, the cost of housing has risen in response to booming demand as well as constraints in the supply of dwellings especially the shortage of serviced lands in capital cities.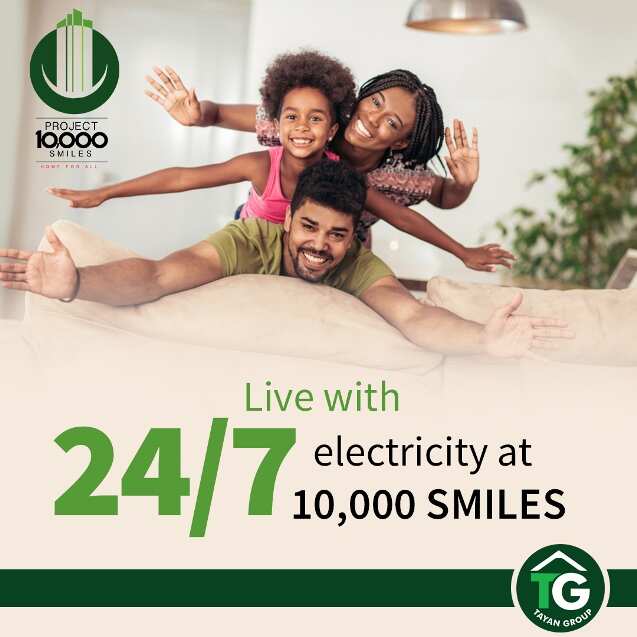 TAYAN group's unwavering dedication to bridge the gap in the country's housing industry and a yearning to provide befitting and affordable accommodations that will be made available to all and sundry birthed 10,000 smiles. The 10,000 smiles project is planned as a bespoke site and serviced estate tucked in a very serene environment behind the well acclaimed centenary city in Abuja, just a few meters away from the Nnamdi Azikiwe International Airport.
Envisioned to be a fully solar powered estate, homes here are now available, from as low as N900,000! This planned housing is exactly the serenity you have been craving. Construed to sit majestically behind the Centenary City in the Kuje Area Council, Federal Capital City Abuja, the 10,000 SMILES Project is designed to be self-sufficient and provide for your needs on a holistic level. On offer are world class enjoyment services that would bring a whole new meaning to the word comfort.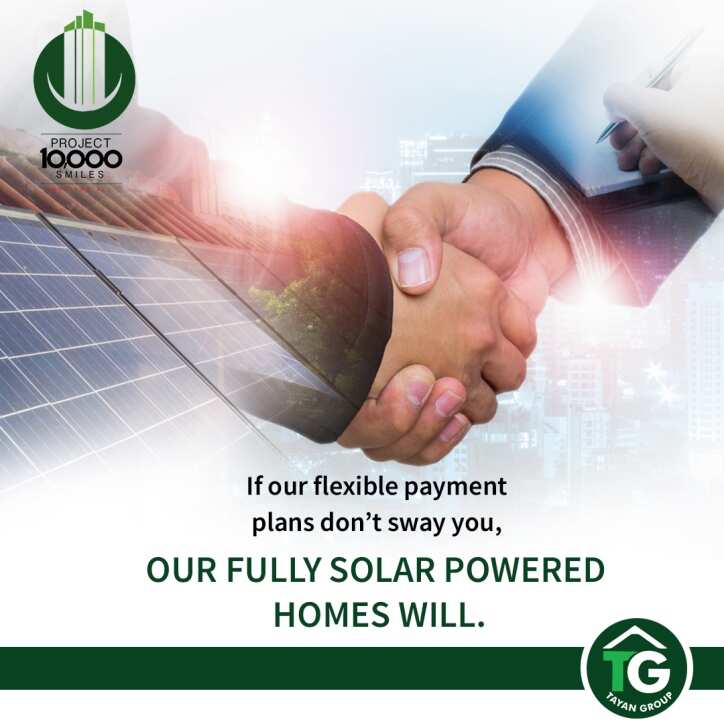 These services include but are not limited to:
1. 24/7 efficient and effective help desk services that is crafted to ensure your living experience is hitch free.
2. Aesthetically pleasing and refreshing greenery designed to provide utmost satisfaction in a manner that increases the quality of living. To maintain this there is a central water system plant that maintains the beauty of the area.
3. State of the art, fully solar powered and also has dedicated transformers. Therefore, there is always power and experiencing power outage will become a thing of the past.
4. Recreational facilities that cater to the leisure of residents of 10,000 smiles estate alongside a regular prescheduled road maintenance that makes this hub of elites easily accessible and aids commuting within and outside the estate. The estate is located few minutes away from the Nnamdi Azikiwe International Airport, 10 minutes to the Lugbe Shoprite (Novare mall) and 20 minutes to the central business district (CBD).
5. A perimeter fence and street lighting that lights up the environment, and allows for an unhindered access to the serenity that it provides regardless of what time it is. This is accompanied with a high level of security with 24-hour surveillance and cctv system that is always watching and making sure that the ambience of the estate is maintained.
Entry into living lifestyle of the upper middle class has never been easier, enjoy this state of the art housing scheme as well as the investment of a lifetime which it stands for. Say your goodbyes to the ever-present worry about electricity bills, enjoy peace of mind and also get absolute value for your money. 10,000 Smiles estate isn't just enticing, it was created to suit your pocket size regardless of your budget. With payment plans that spans across 6 to 24 months, paying for this magnificence you get to call home can truly be stress free. The 10,000 SMILES Project features a variety of payment options that fits just about every income type, alongside amazing discounts and deals on offer when you buy the property outright, one can say the available payment plan was truly designed for all.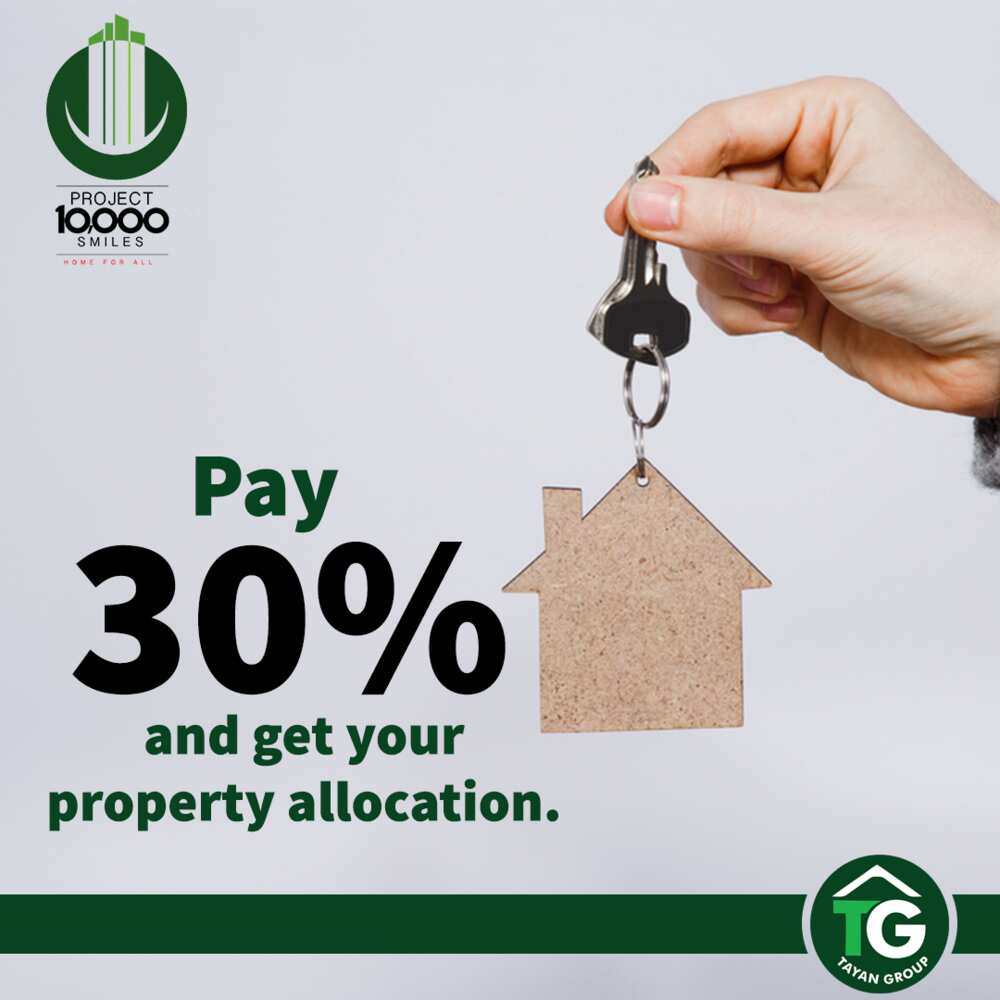 The offer that 10,000 smiles brings is that of a well-rounded package that is the first of its kind. They lead while other housing hubs follow. Their exquisite services break the boundaries, brings a new twist to comfort living, ecofriendly, fully solar powered and not to mention the remarkable location of the project.
The 10,000 Smiles offer beats most available on the market today with their housing units selling at;
– N8.5m Outright for their 2 Bed Flat
– N10.5m Outright for their 3 Bed Flat
– N14.5m Outright for their 3 Bed Duplex
– N25m Outright for their 4 Bed Detached Residences all with a 24 Month Payment Installment plan.
They offer so much more for less and harbour no hidden charges.
For any inquiries and interests Visit: www.tayangroup.com.ng or call 080556666656, send an email to 10000smiles@tayangroup.com.ng and you can also visit their office located at NO 9, Ajesa Street, by LG office, off Aminu Kano Crescent, Wuse 2, Abuja.