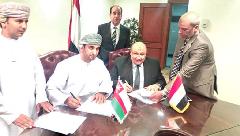 The Civil Aviation Authority (PACA) signed a Memorandum of Understanding (MoU) on Monday with the Egyptian Civil Aviation Authority to boost air transport services.
The agreement includes renewing air services signed in 1987. As for the new MoU, 13 flights will operate between the two countries in a week. An official source at PACA said, "Earlier there were only ten flights."
Mohsen Ramadhan, regional director, Egypt Air – Oman said, "The agreement will strengthen the economic relations between the two countries. It will also help to increase the number of visitors to Oman to Egypt and facilitate trade exchange between the two countries. "