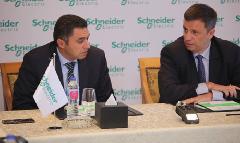 The Executive Director of the International Development Corporation, said Luke Remont, executive vice president of international operations at the company.
"We are planning to double the production capacity at our factory in Egypt by June 2019," Remont said today during a press conference in Cairo.
It also states that the Egyptian market is a strategic one for SE because of its capacity and potential to grow faster than any other market in the region, as well as access to other countries through free trade agreements.
"Thanks to the government's national development plan," "Remont said, adding that the main fields of cooperation include renewable energy, smart cities and sea water desalination.
"We are manufacturing in Egypt and exporting to other markets," he said, explaining that MENA exports to MENA countries through its factory in Egypt.
"We are going to participate in the development of infrastructure in the new cities being built in Egypt, which are considered mega projects that cater to the needs of the growing population and a growing industry," he added.
Walid Sheta, Schneider Electric's regional cluster head of North East Africa and the Levant, said that the local components of the company's future projects will exceed 60 percent, adding that it is working with local partners, integrating its technologies into the electricity market, industry and transportation sectors.
He also stressed that he is eager to increase the volume of its business and investment in MENA region, especially with the improved economic conditions.
Moreover, Sheta said that Schneider Electric will sign today five memorandum of understanding (MoUs) with the Egyptian Ministry of Social Solidarity to establish five solar grid projects in five remote out per year.
SE provides technologies that help save on 30 percent of energy by the industry, which will contribute to lowering carbon emissions and help the environment.
"Energy efficiency is a priority when we provide our technologies for infrastructure projects," he added.
SE's investments in Egypt during the last 32 years, since 1987, amount to approximately 315 million euros. The company has worked with the Egyptian government during this time to offer energy-efficient infrastructure solutions in development projects such as the New Administrative Capital, the New Alamein City and the solar park in Benban in Upper Egypt.