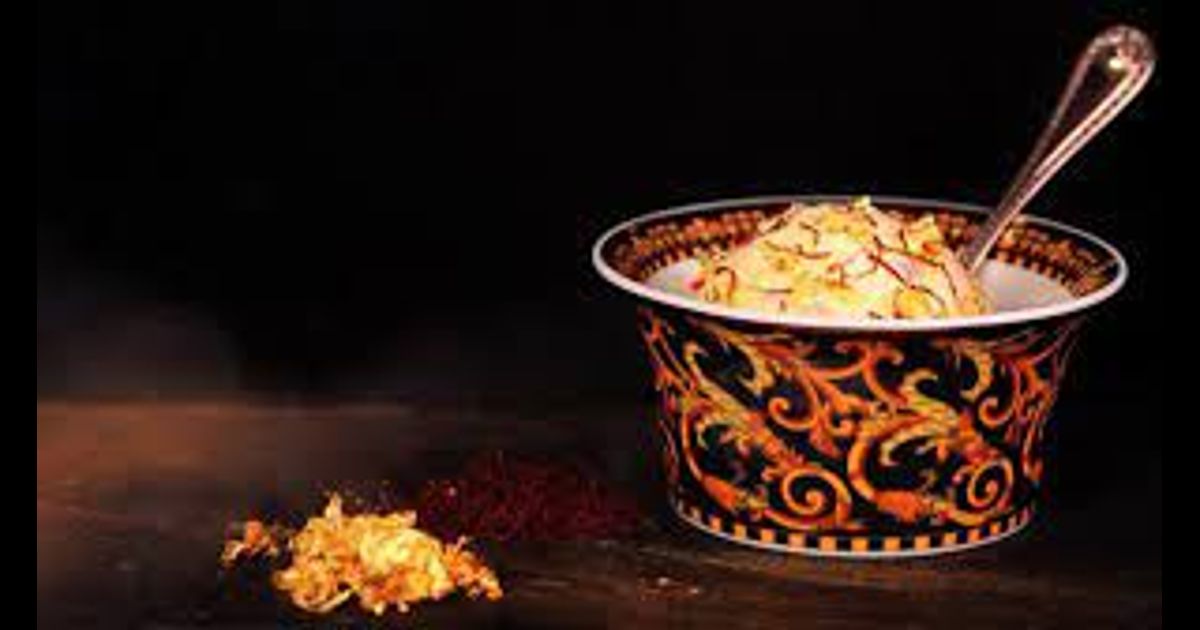 A café in Dubai is selling the world's most expensive ice cream called 'Black Diamond'. The ice cream is worth a whopping $840. This is not a normal vanilla ice cream but has 23-carat edible gold apart from saffron and black truffles. The ice cream is even served in a Versace bowl.
The ice cream costs around Rs.138,000. Some social media users have admired the dessert and voiced their wish to eat the ice cream while others added that this is a waste of money. The dessert came to attention after an Indian blogger went to the restaurant and shared the video of having the ice cream.
Read more: Dubai opens world's deepest swimming pool
Earlier, a picture of the world's most expensive burger circulated on social media. The burger is being sold in Netherland. Creator Robbert Jan de Veen in an interview with the UAE-based publication said, "I was feeling bad seeing the sufferings of the masses and the dismal situation of the restaurant industry. Therefore, I decided to create the world's most expensive burger and donate the entire income to charity to do good for the society." He added that "The ingredients complement each other very well and the flavors are intense."
The Royal Gold Biryani
Another Indian restaurant in UAE introduced the world's most expensive biryani earlier this year. The biryani was worth PKR 43,000. The dish has been named 'The Royal Gold Biryani' by the restaurant, Bombay Borough UAE.
According to the restaurant, the biryani has been garnished with 23-karat edible gold. The Royal Gold Biryani is made with three types of rice- Qeema rice, biryani rice, and saffron-infused rice. The dish weighs three kilograms.
Read more: World's most expensive '23 Karat' gold biryani launches in Dubai
The Royal Biryani is served with small potatoes, fried onions, boiled eggs, mint leaves, roasted cashew, pomegranate seeds to give a unique flavor to the dish. Accompanying the biryani is a variety of grilled meat such as skewered kebabs made from Kashmiri rams, spare ribs of lamb from Old Delhi, Rajput Chicken Kebab, Mughlai Koftay, and malai chicken roast.
The expensive biryani is served with scrumptious sauces, curries, and raita. Jodhpuri curry, nihari, and almond sauce mixed with raita made from pomegranate seeds, golden leaves are also served with the dish. The Royal Gold Biryani is worth AED 1000.