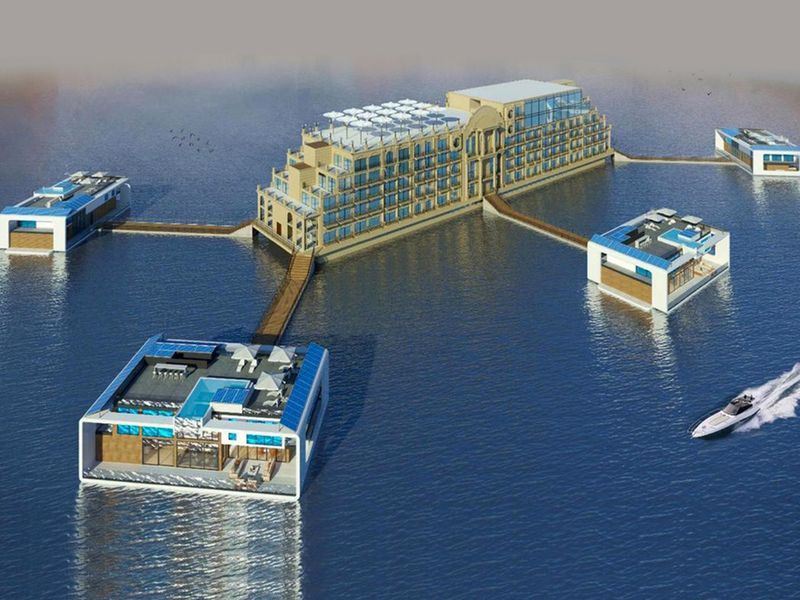 The Sea Palace, a floating hotel will soon have the title of the only floating luxury resort in the world currently in operation. The Sea Palace floating resort is currently being constructed by Seagate Shipyard, an Emirati ship-building company that specializes in on-water building. The company has previously launched floating glass boat homes and a myriad of similar designs. The genius resort will consist of a main hotel that will be surrounded by a total of six floating houses, all of which will be made to detach and float on their own.
Also read: Dubai nears completion on first phase of Heart of Europe.
In terms of design, the resort will feature transparent flooring, furniture designed by Aston Martin, and a slew of other luxurious amenities that will make the stay memorable. The houses are currently in the last stages of construction and overall, the project is about 65% complete. An exact opening date for the Sea Palace resort has yet to be released. Mohammed El Bhawravi, the founder of Seagate Shipyard and project owner, stated that he believes the project will create a boom in the tourism field. The floating resort is being constructed by Seagate Shipyard, an Emirati ship-building company, and will eventually float through the waters near Dubai Marina and is estimated to cost US$163 million.
Each of the houses will consist of two floors, a balcony, and a roof with an outdoor swimming pool. Each floor is 300sqm, which makes it 900sqm in total. The first floor consists of 4 ensuite bedrooms. It also includes a kitchen, a living room, and two additional rooms for the domestic workers. Dubai recently reopened to tourists on July 7, requiring all international visitors to present documentation of a negative COVID-19 test, taken within four days of departure, or undergo testing at the Dubai airport.