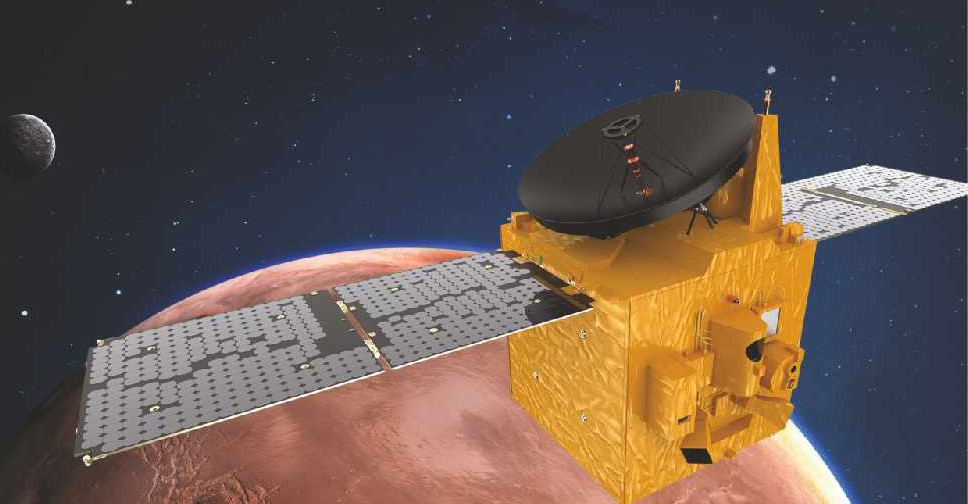 File picture
In an historic day for the nation, the UAE's Hope Probe Mars Mission is due to enter the Red Planet's orbit, with the manoeuvre starting from 7:30 pm UAE time.
The Probe has to slow down in a highly complex procedure called the Mars Orbit Insertion to achieve entry.
Six Delta thrusters will blast off the process, decreasing the speed from 121,000 to 18,000 kmph.
Millions of people in the UAE, the Arab region and the rest of the world are anticipating the historic moment when the Hope Probe is due to complete its journey to orbit the planet at 7:42 pm.
The UAE Government Media Office is organising a major media event at the Burj Khalifa in Dubai to highlight the mission.
The iconic building will be lit up by a special laser show.
Global news agencies, as well as local, regional and foreign media representatives, and officials and members of the Emirates Mars Mission will be in attendance.
The mission will also be broadcast live from the Satellite Control Centre at the Mohammed bin Rashid Space Centre.
During the event, Sarah bint Yousif Al Amiri, Minister of State for Advanced Sciences, who chairs the UAE Space Agency, will present the phases of the Hope Probe mission, from its inception as an idea to the probe orbiting the planet.
And it will be streamed via the Emirates Mars Mission website, www.emm.ae/live, from 7:00 pm UAE time.
The Hope Probe is nearing the Red Planet! Tune in at 7PM UAE time on the 9th of February 2021 to witness our future make history. #ArabsToMars #HopeProbe pic.twitter.com/zoqh9iKgsl

— Hope Mars Mission (@HopeMarsMission) February 7, 2021