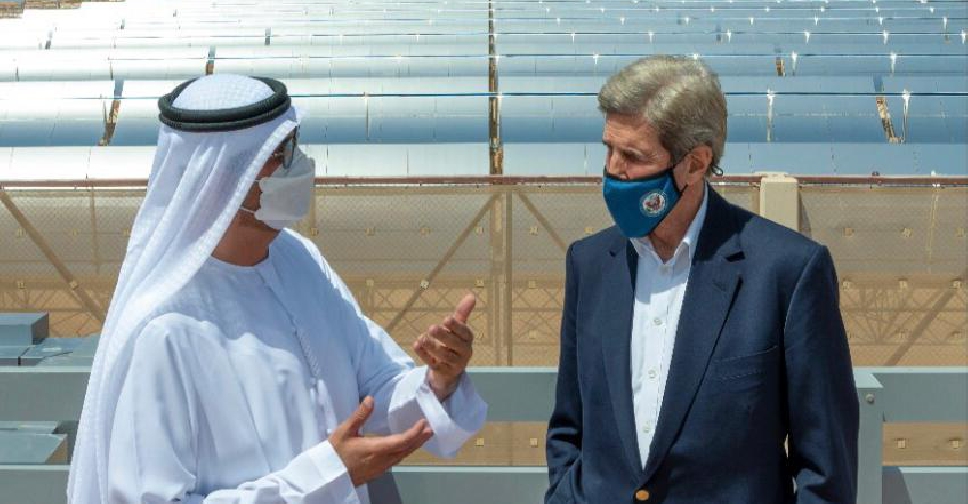 Twitter / @uaeclimateenvoy
Special Presidential Envoy for Climate John Kerry has travelled to the UAE on part of his nine-day trip to the UAE, India and Bangladesh to discuss the climate crisis.
On Saturday, John Kerry visited Noor Abu Dhabi, the world's largest single-site solar project.
This project enables the UAE to reach ambitious renewable energy goals which recently set a new record for lowest solar power tariff.
Kerry also visited Shams 1, one of the largest concentrated solar power plants in the world, where he was briefed on the upcoming 2 GW Al Dhafra Solar Project.
Before leaving for his trip, Kerry tweeted that he was "looking forward to meaningful discussions with friends in the Emirates, India, and Bangladesh on how to tackle the climate crisis,".
He is in the UAE to participate in the UAE-hosted GCC and MENA Regional Dialogue For Climate Action on Sunday, in advance of the Leaders Summit on Climate to take place in Washington this month and in the run up to the 26th Conference of the Parties to the UN Framework Convention on Climate Change later this year (COP26).