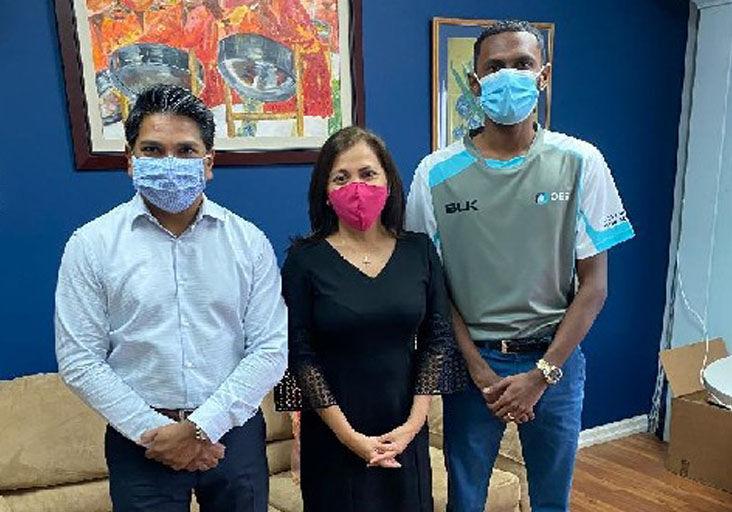 ESAU Oilfield Supplies Company (Esau) has entered into a strategic partnership with Dubai-based, OES Asset Integrity Management (OES).
Director of Esau, Peter Ghany told the Express Business that its the company's first partnership since his parents, Joyce and Esau Ghany, founded the company in 1977.
Ghany told the Express Business that since its establishment, Esau has grown to be one of the largest providers of seamless pipes, fittings, valves and gaskets in Caricom.
"We have been fortunate to partake in all the major oil and gas development projects in Trinidad for over 40 years. ESAU's most prolific projects will be supporting the construction of Atlantic's Trains 1 to 4 and BP's gas development projects," said Ghany.
OES Oilfield Services was established in 1996 by Dubai-based entrepreneur, Richard Upshall.
It now operates in five continents.
OES is an Asset Integrity Management company which essentially keeps oilfield installations and oil logistic chains secure. It provides offshore and onshore inspection, maintenance and audit and commissioning services to rig contractors and operators globally.
To enter the Caribbean, they set up offices in Guyana and enter into strategic partnerships, like Esau.
"With some of the most exciting opportunities coming from Caricom it makes perfect sense for OES to establish a firm presence here, invest in the local skill base and economy and support the burgeoning infrastructure from the ground up," said Upshall, chairman and founder of OES, who started the company with just US$1,000 in his pocket.
Blending the Brands
Ghany, who entered the family business in 1998, said during his tenure he has "managed to secure new manufacturers and suppliers that were both proactive and innovative in the oil and gas sector" expanding the company to set up shop in Bogota, Colombia, Guyana and the US.
He said the relationship with OES was no different.
"I thought that the synergistic alignment of both of our companies would augur well for the oil and gas sector," he said.
He observed that Esau is already positioned in the market as a supplier of the pipes and fittings.
"And we felt by bringing inspection services, coupled with the non-destructive testing services, and other aspects, we felt that we'll be able to provide a one-stop shop for all of our customers. And knowing that we have been around for over 40 years, we will leverage that ability to churn in new customers as well, and give them (OES) that introduction to what we can do as a group of companies," he said.
Ghany observed that market conditions are changing and becoming difficult so the company has to adapt.
In his view, there are huge risks to subcontracting right now as "you know you're not in control of operations, you're not in control of finance, and you're not in control of your brand.
"Now, as two companies we want to be a bit smarter with it, and form a strategic alliance so we can still cover the same value chain, if not more of the value chain, but we'll step in to the table together which keeps that brand, keeps that service, keeps that level of commitment we want for our clients. It's how the market needs to change to be more productive to be more efficient, without putting the business at risk," he said.
He said the Covid-19 pandemic has affected the rollout of the relationship.
For now, Adam Gibson OES's vice president—business strategy (Western Hemisphere) is based in Guyana.
But Gibson sees this as opportunistic, even creative, if you can think outside the box.
"There was a whole lot of opportunities out there. And I think now is the time to do it; now is the time to step up and ensure what two great companies can do. Whilst the market is struggling, and now I think it's actually quite easier to do it in times like this, because this is how the real qualities of companies really stand out," he told the Express Business in a virtual interview last week.
For his part, Ghany said: "I have been privileged to serve on several boards in Trinidad, which has spurred my mind and my desire to venture into new markets. I am part of that "Dream Class of 1987" from Presentation College, San Fernando that has churned out Faris (Al Rawi, Attorney General of Trinidad and Tobago), Rolph (Dr Rolph Bagobin, former independent senator), Dwight (Mahabir, president of the Energy Chamber), a San Fernando mayor, San Fernando councillors and several successful lawyers and doctors. I will be 50 years old next year and I have only just begun to channel business within Caricom and our global market. I have lived a very humble life fuelled by my parents' philosophy and I believe that Trinidad can, once again, regain its position as a major global player. Our nation needs to move beyond oil and gas."