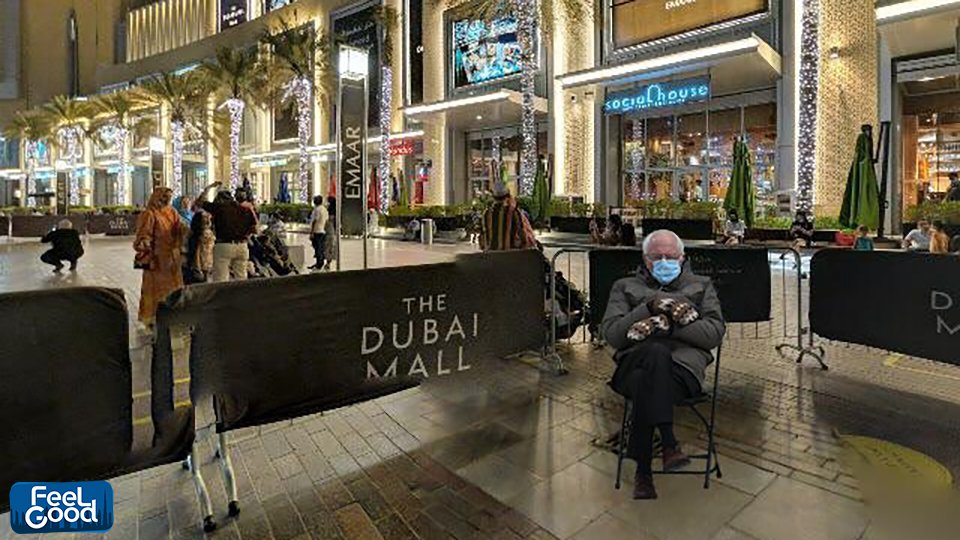 The trending meme of US Senator Bernie Sanders keeping warm during the inauguration of the new President and Vice President has arrived in Dubai with some users adding a local spin to it.
Sanders became meme material after his fashion sense during the inauguration was caught by keen-eyed users. During the event, the senator was wearing a button-up jacket along with some brown mittens. A photo of him during the inauguration is now cropping up in various parts of the world – the Burj Khalifa for example…
#BernieSanders #Berniememes pic.twitter.com/eYB4d87woM

— Ammar Nayfeh (@AmmarNayfeh) January 22, 2021
Anyone spotted Bernie in Marina last week?
@SenSanders thank you for passing by the Dubai Marina today! Wasn't that cold though #BernieSandersMittens pic.twitter.com/DYSusVe4NB

— Karim Hajjali (@karimhajjali) January 23, 2021
He also made an appearance at the UFC Fight Island in Abu Dhabi! Facing off against Conor McGregor.
Y'all too quick man. Leave my boy alone. 😂😂😂 #UFC257 #BernieSanders pic.twitter.com/TVJTvbwsFJ

— Diddy (@Ivannthegreatt) January 24, 2021