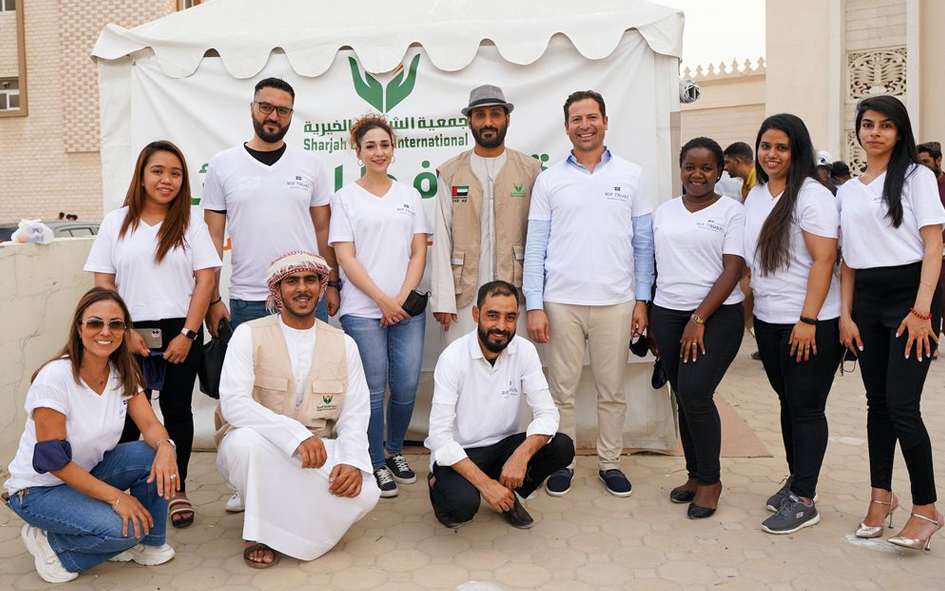 (Dubai, United Arab Emirates – 29 April 2022) – Embracing the spirit of generosity during the holy month of Ramadan, RIF Trust, part of Latitude Group, one of the fastest growing international residency and citizenship by investment advisory firms, has distributed much needed iftar meal boxes to labourers within the emirate of Sharjah in collaboration with the Sharjah Charity International. This annual act of charity is part of RIF Trust's corporate social responsibility (CSR) mandate dedicating both their time and resources to various charities, humanitarian efforts and community outreach programmes throughout the year.
RIF Trust's Community Support Team was led by Mimoun Assraoui, RIF Trust's CEO and Vice Chairman of Latitude, and David Regueiro, RIF Trust and Latitude's COO. Mimoun Assraoui, commented, "we are proud to be part of the UAE community. Under the wise and generous leadership of the UAE government, the country is a global role model for its quick humanitarian response to various causes around the world. We are committed to the strategic vision of the UAE that puts people at the centre of its policies and to our humanitarian initiatives as a global advisory firm.
We would like to thank His Highness Sheikh Dr. Sultan bin Muhammad Al Qasimi, Member of the Supreme Council and Ruler of the Emirate of Sharjah, His Highness Sheikh Saqr bin Muhammad Al Qasimi, Chairman of the Board of Directors of the Sharjah Charity International, and Sharjah Charity International for this successful collaboration. We look forward to expanding our humanitarian efforts in the UAE with future initiatives."
Abdullah Sultan bin Khadim, Executive Director of Sharjah Charity International (SCI, stated, "We extend our sincere thanks to RIF Trust for their generous contribution to this underprivileged segment of our society and for taking the time to personally distribute the meals. The Sharjah Charity International encourages more companies, like RIF Trust, to engage with us as part of their corporate social responsibility initiatives." With 22 offices around the world, RIF Trust employs over 90 industry professionals with international experience in investment migration. As the largest and leading citizenship and residency by investment advisory firms in the Middle East and Africa, RIF Trust is a government authorised agent for the most powerful citizenship or residency programmes in the world and they have helped over 2,500 clients and their families obtain second citizenship or residency.