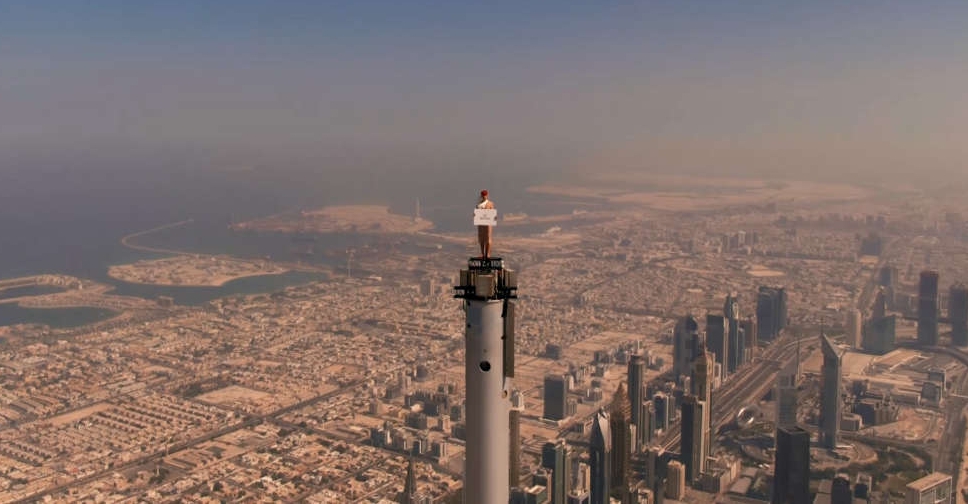 Supplied
After wowing the internet with their new advert, Emirates Airline has unveiled what went into making one of the world's 'highest ads'.
The 30-second clip, which shows an 'Emirates cabin crew member' standing on the tip of the Burj Khalifa holding up message boards, to mark the UAE's move to the UK 'Amber' list had taken the internet by storm, with many questioning its authenticity.
In a new video, released on Monday, the airline captures the intricate safety protocols that were put in place, while stressing that it was shot "without any green screen or special effects".
The carrier added that they cast professional skydiving instructor Nicole Smith-Ludvik for safety reasons, even though a casting call saw eager Emirates' cabin crew members ready to take on the challenge.
On the day of the filming, the team climbed to the pinnacle before sunrise, so that they could film in the "golden hour light". It took them an-hour-and-15-minutes from level 160 of the Burj Khalifa to scale several tiers and ladders inside a tube to reach the top.
The entire shoot was filmed by a drone and lasted around five hours.
The footage shows Nicole wearing a safety harness that is secured to a custommade platform attached to the pinnacle.
At 828 metres above ground, this marks one of the highest ads ever filmed and was conceptualised and directed by Emirates' in-house brand team with the help of Dubai-based Prime Productions AMG.
[embedded content]
"We always look to challenge the norm and push boundaries at Emirates," said Sir Tim Clark, President Emirates Airline. "We're proud to be among a privileged few who have been allowed to film at the top of the Burj Khalifa by Emaar; and even prouder that we get to showcase our beautiful city, Dubai."
The ad will be adapted for several markets across the Emirates network, incorporating relevant messages for different audiences. The first TV campaign will run in the UK.