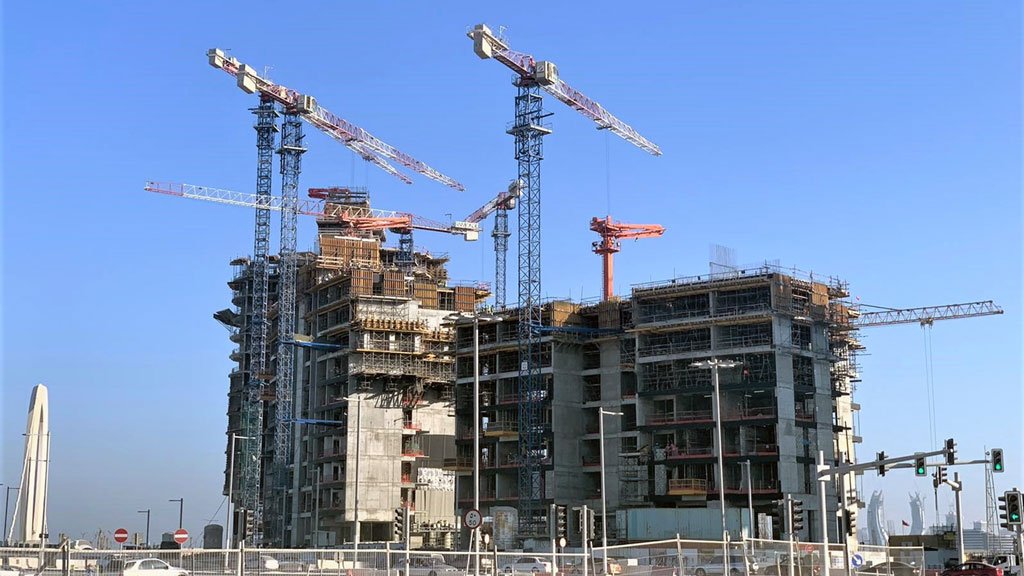 DUBAI, UNITED ARAB EMIRATES—Raimondi Middle East deployed 10 topless tower cranes for the construction of The Seef, a residential development in Qatar.
With one MRT159 crane dismantled in June, there are currently nine Raimondi cranes operating onsite. Five cranes, an MRT294, MRT223, MRT189 and two MRT144s, originally sold to UCC fleet, have now been resold to the contractor of the project, Urban Trading and Contracting WLL, indicates a release. The additional four new MRT159s were sold and installed directly by Raimondi Middle East in January 2020.
Taking into consideration the size and layout of the jobsite, one of the key aspects of the project was a careful study of the positioning of each crane to avoid jib clashing and to ensure site safety and productivity. The technical team, together with the UCC project team, engineers and plant department conducted a workshop prior to commencing work, adds the release.
The nine cranes will be dismantled in the upcoming months as the project is expected to be completed by the end of the year.
"Another significant point we took into account was the fast-tracked nature of the project as the contractor was looking to install the cranes in a short timeframe to accelerate operations," said Wael Hasan, commercial director with Raimondi Middle East, in a statement. "Raimondi Cranes is supporting the jobsite with ongoing service and monthly maintenance to ensure smooth operations and successful project completion."