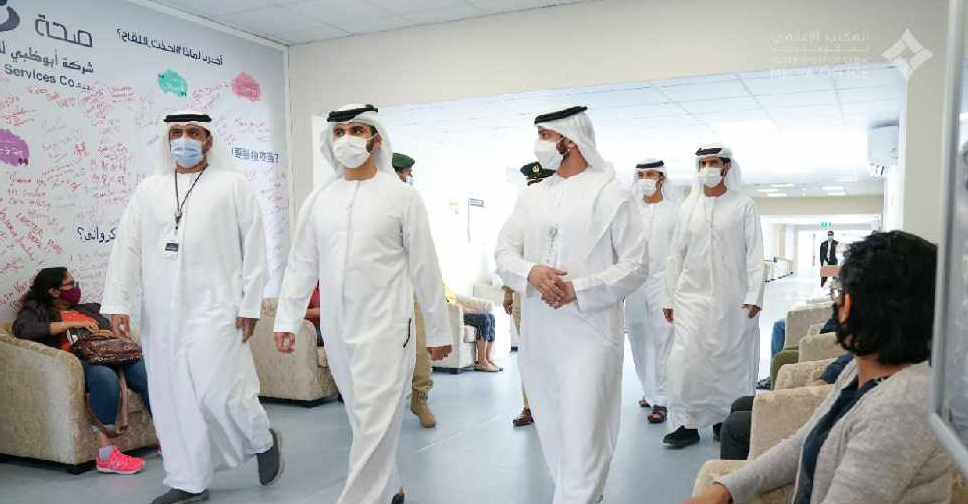 @DXBMediaOffice/ Twitter
His Highness Sheikh Mansoor bin Mohammed bin Rashid Al Maktoum, Chairman of Dubai's Supreme Committee of Crisis and Disaster Management, has urged all members of the community to take the COVID-19 vaccine.
During a visit to several COVID-19 vaccination centres in Dubai, Sheikh Mansoor praised the efforts of all stakeholders at the local and federal levels in curbing the spread of the virus.
A total of 120 centres have been set up across the emirate so far that provide either Sinopharm or Pfizer-Biontech vaccines.
"The growing demand for the COVID-19 vaccine reflects the success of Dubai's and the UAE's campaign against the global pandemic," Sheikh Mansoor said, noting that the guidance and vision of the UAE's leadership was instrumental in the country's progress in effectively combating COVID-19.
"To consolidate the progress that has been achieved, we call on everyone to continue stringently adhering to precautionary measures. The community's commitment is vital in ensuring a full restoration of normalcy," he added.
Today, I visited several Covid-19 vaccination centres in Dubai. We remain committed to taking all the necessary steps to control this pandemic and ensure our community's safety. The joint efforts and teamwork of local and federal authorities is inspiring. pic.twitter.com/tq94tjPpct

— Mansoor bin Mohammed (@sheikhmansoor) January 17, 2021
Sheikh Mansoor first visited the vaccination facility at the Ministry of Health and Prevention's Al Lisaili Health Centre, where he reviewed the centre's operations and the process followed by specialised medical personnel in administering vaccines.
Sheikh Mansoor also visited the Dubai Parks and Resorts Field Hospital vaccination centre set up by the Abu Dhabi Health Services Company (SEHA) and then concluded his tour by visiting the newly set up One Central COVID-19 Vaccination Centre in the Dubai World Trade Centre area.
The Dubai Health Authority (DHA) is working on accelerating the emirate's vaccination drive and launching new centres to enhance convenience for the community, especially the groups targeted in the current phase of the vaccine rollout.
The DHA noted that the next phase of the vaccination drive will see more centres being set up in response to increasing demand.
. @SheikhMansoor bin Mohammed visits COVID-19 vaccination centres in #Dubai, urges community members to get vaccinated. https://t.co/q7ExlU6JNJ pic.twitter.com/ttCbVMBarA

— Dubai Media Office (@DXBMediaOffice) January 17, 2021