Football Clubs in Ghana made a net profit of 50m dollars in transfer deals over the past decade according to a FIFA report on International Transfers in the men's game.
Ghana's gains was the highest in Africa, surpassing member associations such as Nigeria, Senegal and Egypt.
Clubs in Ghana received a total 50.1m USD from with Inter Allies topping the list of outgoing transfers. Ghanaian clubs also spent 500.000 USD on 381 incoming international player transfers in the past decade.
The report confirms that African players featured heavily after Europeans in the transfer market activity with Nigeria, Ghana, Ivory Coast, Cameroon and Senegal making the top 30 list.
Ghana (1,533) had the second highest outgoing transfers in Africa, again behind Nigeria(1,904) according to the report.
The transfers involved 66,789 players and 8,264 clubs across 200 FIFA member associations, with Brazilian players moving to foreign clubs topped the list with 15,128 transfers, followed by Argentinian (7,444), British (5,523), French (5,027) and Colombian footballers.
The report published by FIFA, says Football clubs in England accounted for over a quarter of international transfer expenditure during that period, with £9bn spent out of a global total of £35.3bn.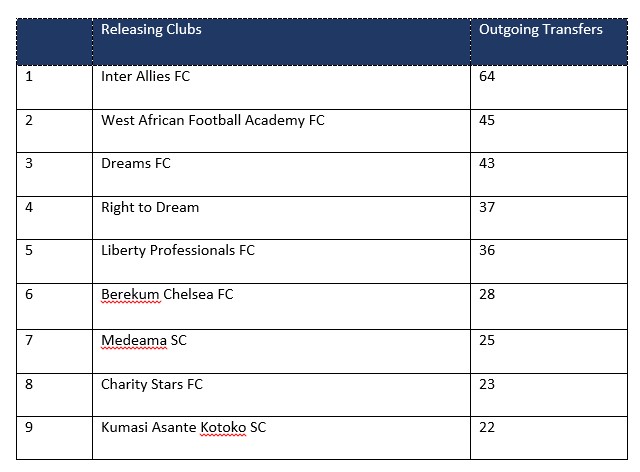 Tags: