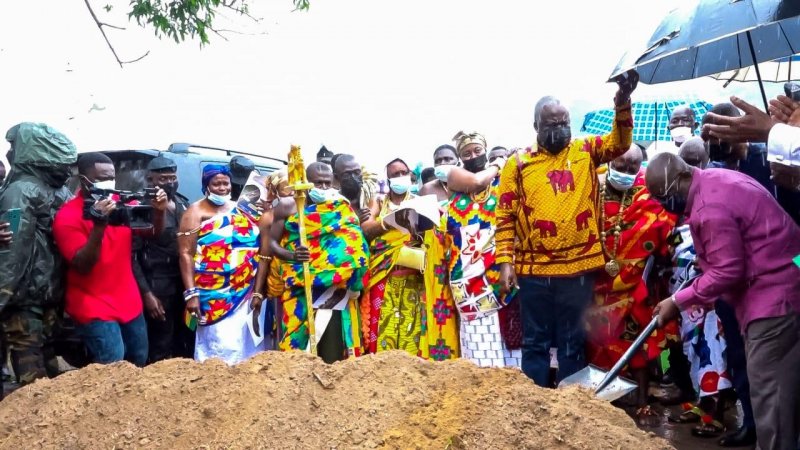 President Akufo-Addo recently cut the sod for the start of work on the reconstruction of the 67-kilometer Agona Nkwanta – Tarkwa Road in Ghana's Western Region.
The project scope includes the construction of a two-way single carriage apathetic concrete finish, construction of drainage system, provision of street lights for all towns and villages along the road, construction of walkways, road line markings, and signposts installation to ensure the safety of drivers and pedestrians.
Also Read: Tamale Interchange construction in Ghana on the verge of completion
The Agona Nkwanta–Tarkwa Road reconstruction works will be carried out by M/S Gabriel Couto-Rango Consortium as the contractor, and Kwannor Consult Limited as the project consultant, for a period of 3 years until August 31, 2024.
Significance of the Agona Nkwanta–Tarkwa Road project
Funded with a close to US$ 112.5 facility from Deutsche Bank AG, the Agona Nkwanta–Tarkwa Road project upon completion will link Tarkwa, one of the major economic centers of Ghana, to the port city of Takoradi and to the national route (N1) that links the West African country to the neighboring republic of Cote D'Ivoire.
The road also connects the mineral and agricultural rich lands in the Western, Ashanti, Western North, and Central Regions of the country serving as the shortest and most efficient route for the transportation of gold, manganese, bauxite, timber as well as agricultural goods like cocoa, rubber, and timber to Takoradi.
A part of a plan to improve road network in the Western Region
According to President Akufo-Addo, the reconstruction of the Agona Nkwanta–Tarkwa Road, is a part of a comprehensive plan of action being taken by his government to improve the road network in the Western Region, and, indeed, the entire country.
In the Western Region, particularly, the government has embarked on the construction of the PTC Interchange in Takoradi, which is the first interchange in the western part of Ghana. The project is expected to be completed by June 2023.
Construction of the Sekondi, Adiembra and other selected roads around the Takoradi Harbour has also been awarded, and works are expected to commence next month (October 2021).
The construction of the Adwofua-Osei Kojokrom road, Elubo-Enchi road, and the construction of the Yamatwa Junction-Yamatwa are ongoing.