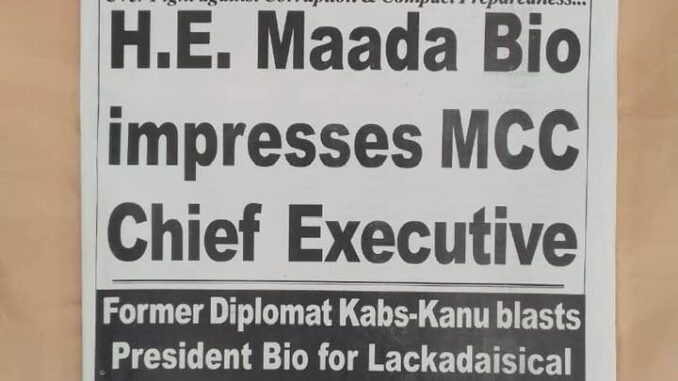 Culled from AWARENESS TIMES
Former Diplomat Kabs-Kanu blasts President Bio for Lackadaisical Governance as Sufferings Rise
From News Desk
A former diplomat at the Sierra Leone Mission in New York, United States of America, Reverend Wilfred Kabs-Kanu, has lambasted President Julius Maada Bio for "Lackadaisical Governance as prices of food and basic commodities spiral out of control".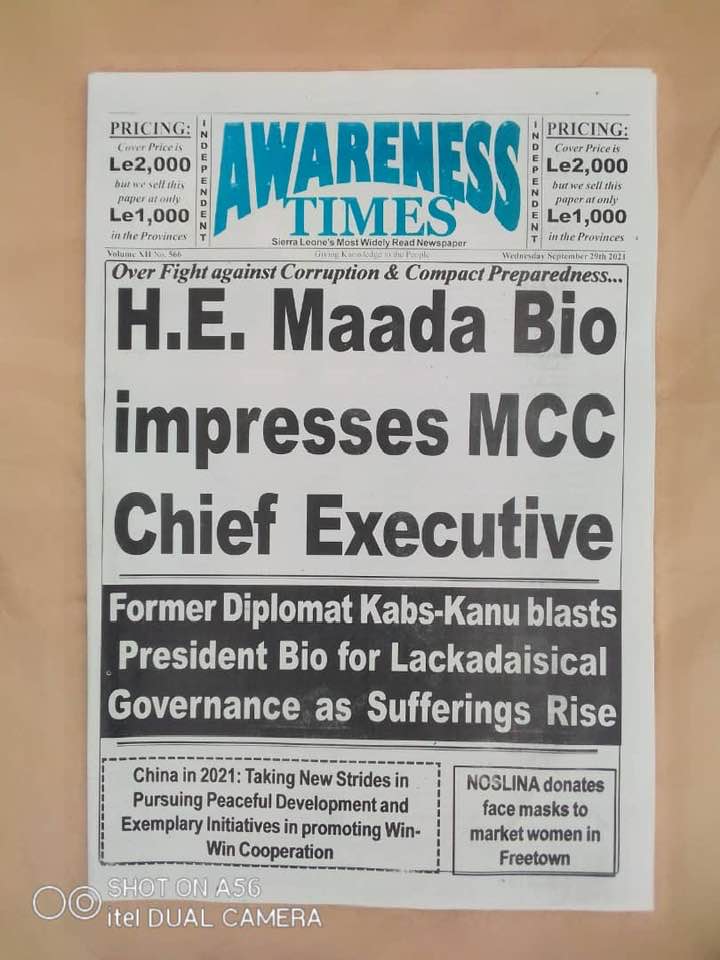 Reverend Kabs-Kanu was reacting to what he called out to be a President that is "busy traveling all over the globe, wasting precious national resources and telling whopping lies to the world that Sierra Leone is heading to a new and better direction".
For Kabs-Kanu, he questions the actual direction to which Sierra Leone is heading by asking "What kind of new direction is this, where children and their parents and guardians go to bed hungry every night?"
Continuing his lamentations, Kabs-Kanu says "The chronic economic meltdown and the excruciating suffering of the Sierra Leonean people as food prices spiral out of country are worsening by day. Even market women and traders are now facing a very serious squeeze. Their foodstuffs are so expensive, people cannot afford and so business is very slow. Everybody is complaining; from the office messenger and security officer to the street cleaner, okada driver, poda poda boy and Mr. Johnsons with – neck ties in the offices.
Everybody is at their wits end because of the steadily escalating prices of basic commodities in the country".
Kabs-Kanu points out that "within four years since President Bio came to power in 2018, everything has gone up, dangerously".
However, a Spokesman for the Government has said the frequent travels of the President has been yielding dividends. They cite a recent multi million dollars from the Global Partnership for Education (GPE), came about because President Bio travelled to the GPE Summit in London and impressed the Donor Community. The Office of Government Spokesman also told Awareness Times that socio-economic challenges were not happening only inside Sierra Leone but were a global challenge. The Government believes that Sierra Leone is doing comparatively better than its West African neighbours.
However, for the former diplomat Kabs-Kanu, he is not impressed and so he bitterly protests that "this new direction of starvation, squalor, suffering and darkness" cannot be justified.
Noteworthy is that Reverend Kabs-Kanu was appointed as a diplomat by the former president and is a staunch member of the main opposition All Peoples Congress party.