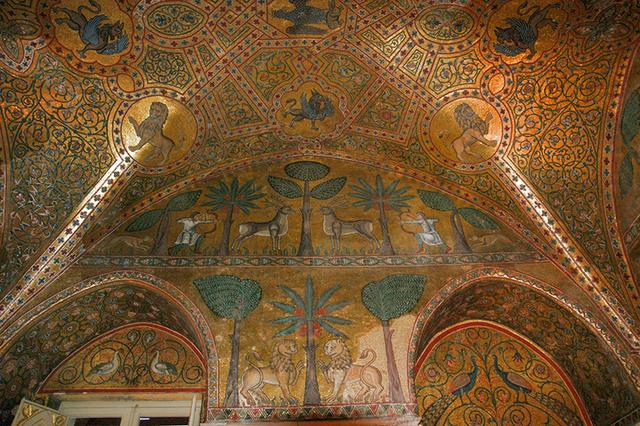 Comunicato Stampa disponibile solo in lingua originale.
So we went out to see the stars" is the last verse of Dante's Inferno and probably one of the most known all over the world from the Divina Commedia. After sinking deep in the underworld, the Florentine poet leaves the hellish night at his back and prepares to climb the Purgatorio mountain of promise and redemption. The evergreen image of a starry sky, a vision of hope and rebirth, marks this passage. A sky like the one in Galla Placidia, one of the most renowned artistic mosaics in the world, from which the Supreme Poet drew his inspiration, as he also did with other byzantine mosaics in Ravenna. An invitation to look up, as Dante reminds us, to see beautiful things, to gain awareness that we are human, to guide our gaze towards the stars and thus to that thirst for infinity, entirety and happiness that's inside our heart.
The author of this masterpiece is #sicis. Tiny tesserae cut one by one, following the tradition, by the skilful hands of artists and mosaic masters of the Italian company. On the walls of this Theatre, house of the majestic copy of Michelangelo's David, #sicis recreated a millennial history that runs across all of Italy. Artistic mosaics in gold and Murano glass, two million tesserae made using cutting edge technologies, that depict the main scenes of some of the most beautiful and poetic historical monuments precisely for their mosaic decorations: the Norman Palace and its Palatine Chapel in Palermo, together with the most fascinating stars we can admire, the ones of Galla Placidia in Ravenna. An extraordinary work that we can all admire from October 1st.

The Expo #dubai 2020 opens its doors with a delay of one year due to the pandemic and will accompany us for 6 months, with a series of events, until March 2022.
The Italian Pavilion, a significant architectural work that sums up technology, innovation, sustainability with a look to Italian historical, artistic and cultural roots, encloses all this in the chosen theme "Beauty connects people", a claim that finds a perfect correspondence with the mosaic work in the Theatre of Memory.
The world we live in needs beauty. Art is capable of expressing and making visible the human need to go beyond what can be seen. It displays the thirst and search for the infinite, a door toward beauty and truth that goes over everyday routine. And a work like the charming mosaic tale of the Theatre of Memory can open the eyes of the mind and heart. The art of images can become a bearer of grace, which can announce it and make it visible. And if we look at it with the eyes of the body and the eyes of the soul, we'll experience beauty, the splendour of truth.