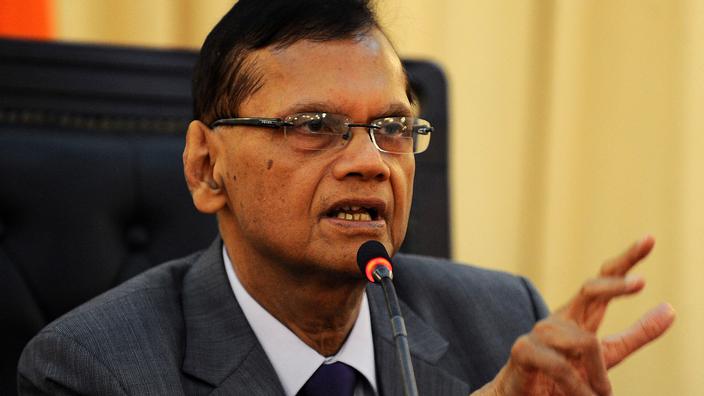 Sri Lanka, facing a serious shortage of foreign exchange, is seeking cheap oil from the United Arab Emirates, the government said on Saturday.
Foreign Minister Gamini Lakshman Peiris approached UAE Minister of Industry Sultan Al Jaber on the sidelines of the United Nations General Assembly in New York to secure a special deal, a statement said. of the ministry.
According to the ministry, Gamini Lakshman Peiris "
explained the challenges that Sri Lanka is currently facing in terms of its external budget, due to the Covid-19 pandemic
".
"
He focused in particular on the country's oil needs and requested concession agreements from the Emirates
", which would have said "
happy to provide assistance
", details the statement.
Read alsoThe Covid triggers a food crisis in Sri Lanka
After a 3.6% contraction in its economy last year, Sri Lanka's commercial banks are running out of dollars to finance essential imports, including food and fuel, as the crisis worsens.
The government declared a state of emergency on August 31 to deal with the development of the black market for basic necessities and the depletion of stocks of certain foods.
Help requested from India and the World Bank
The country may have to ration fuel by the end of the year, unless it drastically cuts consumption, according to senior Sri Lankan official PB Jayasundera.
According to media reports, Sri Lanka may also seek a $ 500 million loan from neighboring India to finance urgent oil imports.
Earlier this week, the government requested an emergency loan of $ 100 million from the World Bank for its coronavirus vaccination campaign.
Read alsoSri Lanka further increases its dependence on China
Sri Lanka's foreign reserves stood at $ 3.55 billion at the end of August, while the country is due to repay around $ 2 billion in foreign debt before the end of the year.
The government on Wednesday raised its debt ceiling to 400 billion Sri Lankan rupees (1.7 billion euros) in order to be able to meet its expenses over the next three months.