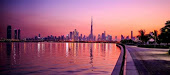 UAE media are reporting that the UAE will receive tourists "from all countries" fully vaccinated with a vaccine approved by the WHO with effect from tomorrow, August 30. Arriving vaccinated tourists will need to take a rapid PCR test on arrival in Dubai, before leaving the airport.
According to media in Dubai, this applies to travellers from countries such as South Africa, where travel to the UAE has previously been restricted or outright banned.
The news is derived from a joint statement of the Federal Authority for Identity and Citizenship and the National Emergency Crisis and Disasters Management Authority.
Passengers with tourist visas must take a mandatory rapid PCR test at the airport on arrival. The previous rules for unvaccinated travellers, including exempted categories, are reported to remain in place.
Incoming tourists will need to register their vaccination certificates on the ICA website or the Al Hosn app.