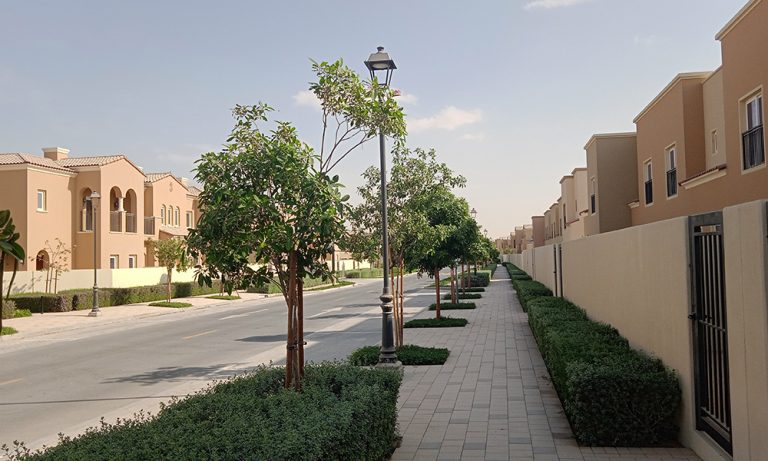 Landscape contractor, Akar Technical Services, which is owned by Villanova Residential Community has announced the successful completion of a contract work worth $14.9 million at Villanova Residential Community that features an array of standalone villas as well as cluster homes in Dubai.
The contractor worked through an 18-month contract that covered the construction of pavement areas and swimming pools as well as landscape works. The scope of the works included the installation and supply of more than 100,000 square meters of precast pavers of varying patterns and colors.
Search for construction leads
The precast pavers included curb stones intended for parking with different sizes of natural gravel. Four sets of swimming pools were also constructed and these were segmented into the kids' pools and main swimming pools, alongside underground balancing tanks and pump rooms.
Additional works carried out at the Villanova Residential Community by Akar
In addition to the aforementioned construction works, the contract for the Villanova Residential Community project also included the installation of decorative fences for swimming pools, as per authority standards. Not forgetting, shade structures for equipment, as well as the supply and installation of fitness equipment, play equipment, and basketball courts that boast acrylic court finish with rubber flooring.
Akar went the extra mile by providing for the installation of street furniture that included concrete and wooded benches, bollards, sun loungers, litter bins, and a precast BBQ with an exquisite table set.
The executive director of Akar Technical Services, Adnan Naiwala stated that the Villanova Residential Community is an ambitious project that would enable the company to showcase the company's exceptional expertise in landscaping and contribute toward Dubai's over-arching goal of creating integrating and exquisite lifestyle experiences that enrich the lives of visitors and residents.
If you have a remark or more information on this post please share with us in the comments section below